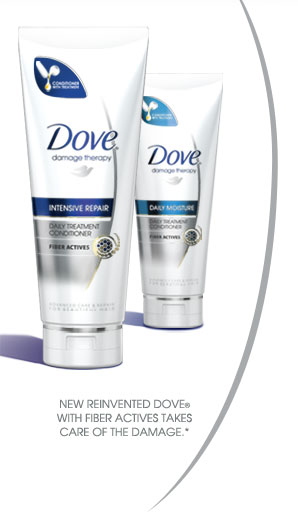 I am a Dove Hair Premier Ambassador and Dove provided me with a free product to try and share my opinion with all of you!
I have to say I'm a little biased, I LOVE Dove Products! I already use Dove deodorant and Dove hair care products! I want the product to work great but my main requirement is the right smell. My favorite is the Go Fresh Cucumber and Green tea! Loooove it!
I have to admit I am very hard on my hair! It is very thin and straight. I recently switched to a different hair style that's much shorter than my normal which allows me to blow it out with a round brush and a blow dryer! I add styling mousse, sometimes gel, and always hairspray!!! After all this I am able to give my hair a little body and a thicker look! So you can imagine this Daily Treatment Conditioner was much needed!
My Experience with Dove Daily Treatment Conditioner:
Consistency: I like the consistency, it was creamy and thick. Not much was needed to cover my short hair.
Fragrance: The smell was nice. I would describe it as soft, more on the perfume side. I personally prefer a fruit smell.
Wash out factor: It wasn't hard to wash the conditioner out of my hair. But I could tell it coated my hair. I hate when a conditioner takes forever to wash out and then you never truly feel like it is completely out. This conditioner did not leave my hair feeling greasy or heavy.
Styling: My hair styled just the same as normal, but I noticed a bit of a shine that wasn't there before!
Over all I really liked the new Dove Daily Treatment Conditioner. The bottle was sleek and easy to open. I have had problems in the past with the old Dove bottles. They were very hard to open. So I am very glad Dove changed to the new look!
Want to try a Sample of Dove Daily Treatment Conditioner? Click here for a free sample!
Disclaimer: Product provoded, No monotary gain was made. All opinions are 100% my own honest experiences.